ISIS Forces Young Kidnapped Boys to Join Them and Endure Extreme Radical Training
Under ISIS' Command the Boys Learn to Become Suicide Bombers and Behead.
ISIS turns young boys into weapons.
MUNTINLUPA, PHILIPPINES (Catholic Online) – A 14-year-old who was abducted and later able to escape his ISIS captors shared his terrifying experience with ISIS.
"They told me it was the head of the infidels," he explained about the dolls. "I was scared when I saw that. I knew I wouldn't be able to behead someone like that. Even as an adult."
According to the boy, he will never forget the videos of beheadings that ISIS showed the young boys.
ISIS forced the young boys they kidnapped to convert to Islam from their ancient faith and worked to turn them into jihadi fighters. The terrorist group's goal is to turn boys into killers and suicide bombers. The fighters i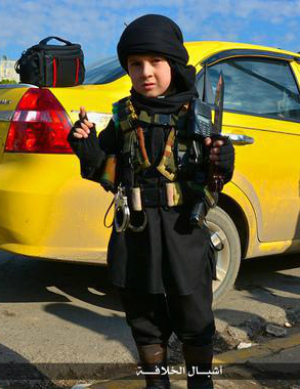 n the streets lure children with toys.
ISIS training camps stir the "lion cubs," or the child fighters for the "caliphate" that ISIS claimed across its territory.
A video was released last month showing 25 children mercilessly shooting 25 captured Syrian soldiers in the head. Just last week, the terrorist group issued another video featuring a young boy beheading a Syrian soldier under an adult ISIS member's supervision. The boys in ISIS' camp wore camouflage and shouted slogans.
According to one ISIS fighter, the boys have studied jihad so "in the coming days God Almighty can put them in the front lines to battle the infidels."
Boys undergoing endurance training are forced to stand still as an adult trainer hits their heads with a pole. According to ISIS, they have hundreds of camps for this purpose alone.
It has been documented by The Syrian Observatory for Human Rights that at least 1,100 Syrian children under 16 became members of ISIS this year alone. At least 52 have been killed in battle, including eight suicide bombers.