On the Run From ISIS
Stories From Iraq
"We had only one choice: face death or leave," says Sister Luma, a nun of the Dominican order who left her hometown of Qaraqosh, Iraq's largest Christian town, in August — one of roughly 50,000 Christians who fled ISIS's advance on the ancient town.
Shortly before midnight, she and 35 other nuns packed into a few cars and drove to a convent in Ainkawa, a town in the Kurdish region of Iraq, bringing with them a 10-year-old girl from the church's orphanage.
This isn't the first time Luma has been displaced. In June, she fled ISIS's advance on nearby Mosul.
A graduate from the University of Notre Dame, where she received her Ph.D. in Biblical Studies, and from Chicago's Catholic Theological Union — where she discovered her love for brownies and the Field Museum of Natural History — Luma left behind her beloved library along with the church's treasured archives, some dating back to the 11th century.
Luma has sought solace in the Book of Micah. "People will use hammers to turn their swords into ploughs," she reads from her copy of the Bible. "They will turn their spears into tools to cut plants…Everyone will sit under his own vine and his own fig tree, and nobody will make them afraid any longer."
The Survivor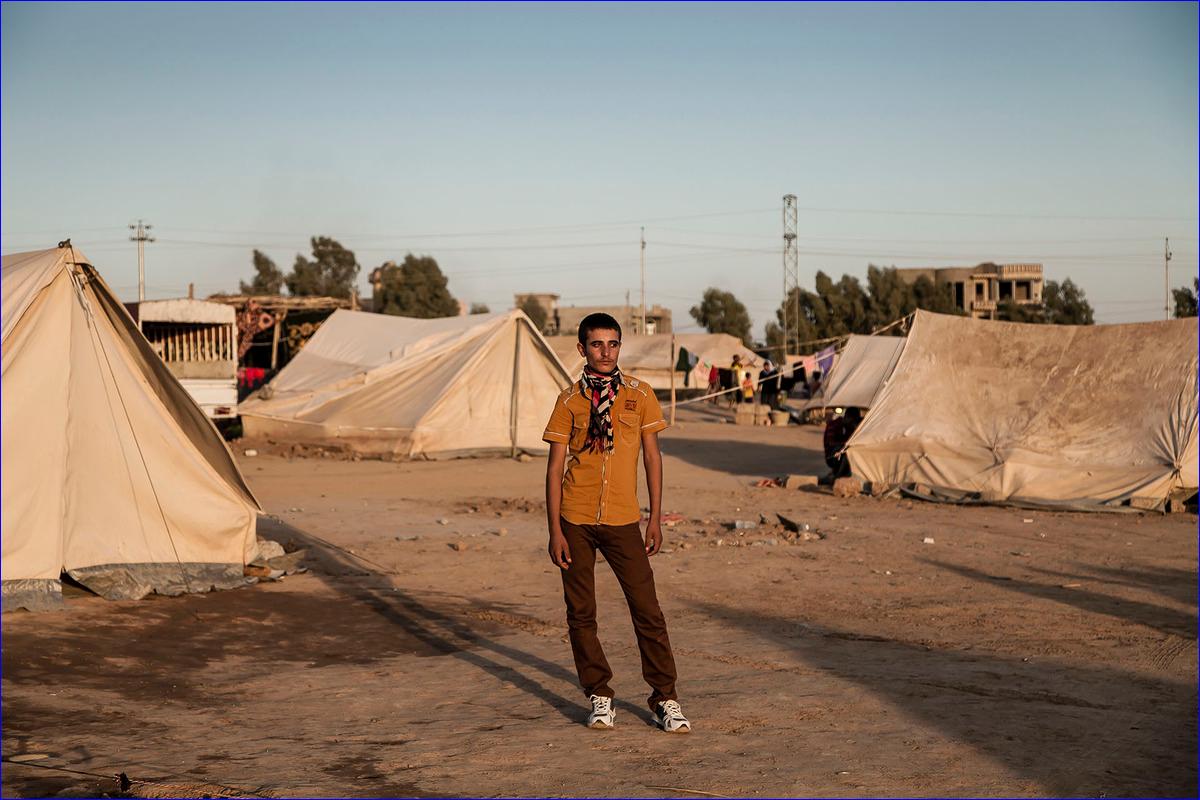 "I stood up and saw dead bodies everywhere," said 17-year-old Khidir. "But I didn't feel fear — I had to move fast."
Earlier that day in August, masked ISIS militants had stormed his village, ordering hundreds to gather in the only school.
Khidir's cousin told him not to worry. But soon, Khidir and twenty other men, including his cousin, were packed into a Kia truck and driven to the middle of a field. They were blindfolded and forced onto their knees. As the ISIS militants opened fire, Khidir thought he had come to the end of his life.
He heard his cousin scream out as he was hit and then felt a blazing hot prick on his own neck. But the bullet had just nicked him and Khidir, who had fallen to the ground, pretended to be dead until the assassins left.
Only one other man survived the firing squad and together they made their way to the Kurdish region of Iraq. While few bodies have been recovered from that fateful day, Khidir has accepted that his father and four brothers were executed. Recently, one of his sisters managed to call him from ISIS captivity, telling him in a whisper that their mother and four other sisters were being held by the militants.
"I've accepted the pain and the unknown future," says Khidir as he sits on the dirt-floor of a tent in a refugee camp 100 miles from his ancestral village. He knows one thing, though: he will never go back; never set eyes on his home, the tomatoes he planted or the big tree in the garden he used to climb as a kid.
"Everyone is dead," he says. "There is no village."
The Calligrapher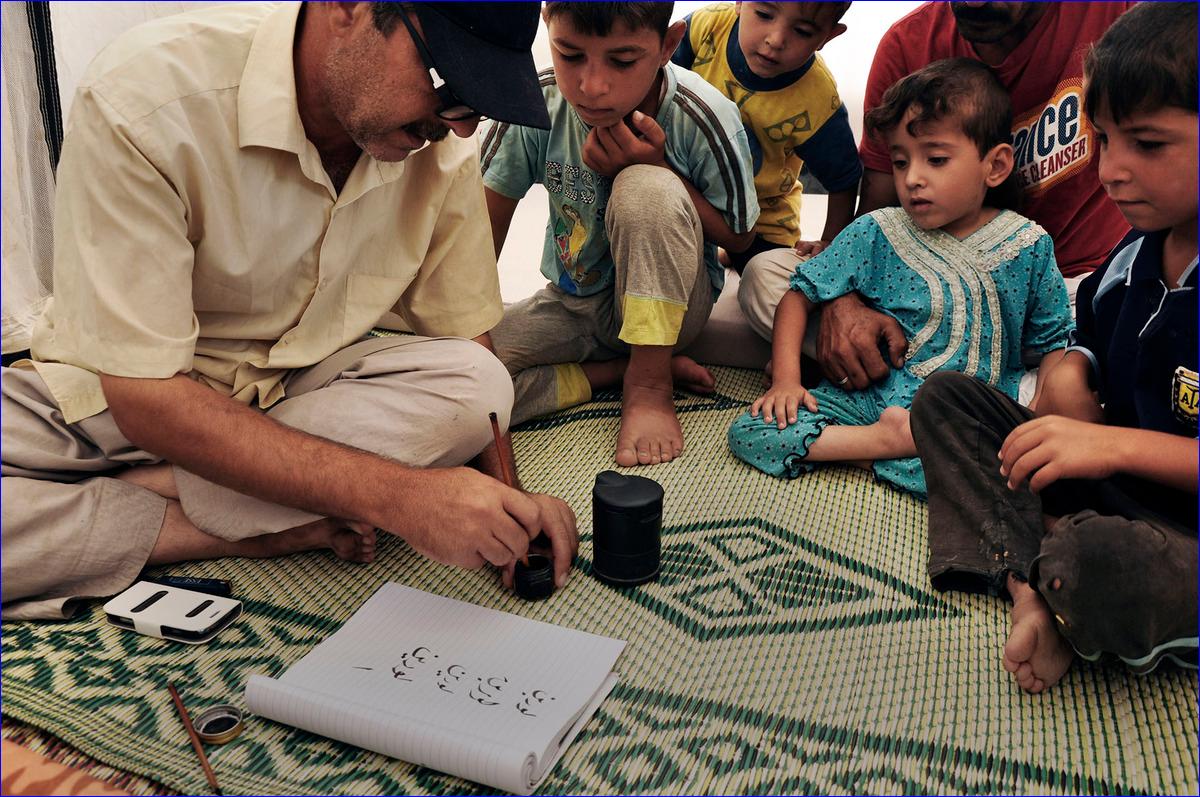 Akram still remembers the day he realized he possessed a special gift, that he wasn't like the others.
"My fifth grade teacher held up a paper with my hand-writing and told the whole class I'd be a famous calligrapher," the 50-year-old recalls, his eyes sparkling with joy at the memory, even as he sits here, hunkered down in a tent in Iraq's Garmawa refugee camp.
Akram fled his hometown Tal Afar this summer as ISIS swept through northern Iraq. The clashes between the militants and the Iraqi military were fierce and, deciding he had to bring his family to safety, Akram got hold of a car and drove his wife and four children to Dohuk in Kurdistan.
Leaving, though, was painful as Akram had to leave precious work behind from his 30 year-career as an artist as well as his studio, anchored by a big oak table and a comfortable chair. Since coming to the camp, he has been unable to create, he says.
"I'm not in the right state of mind," he says.
The Mother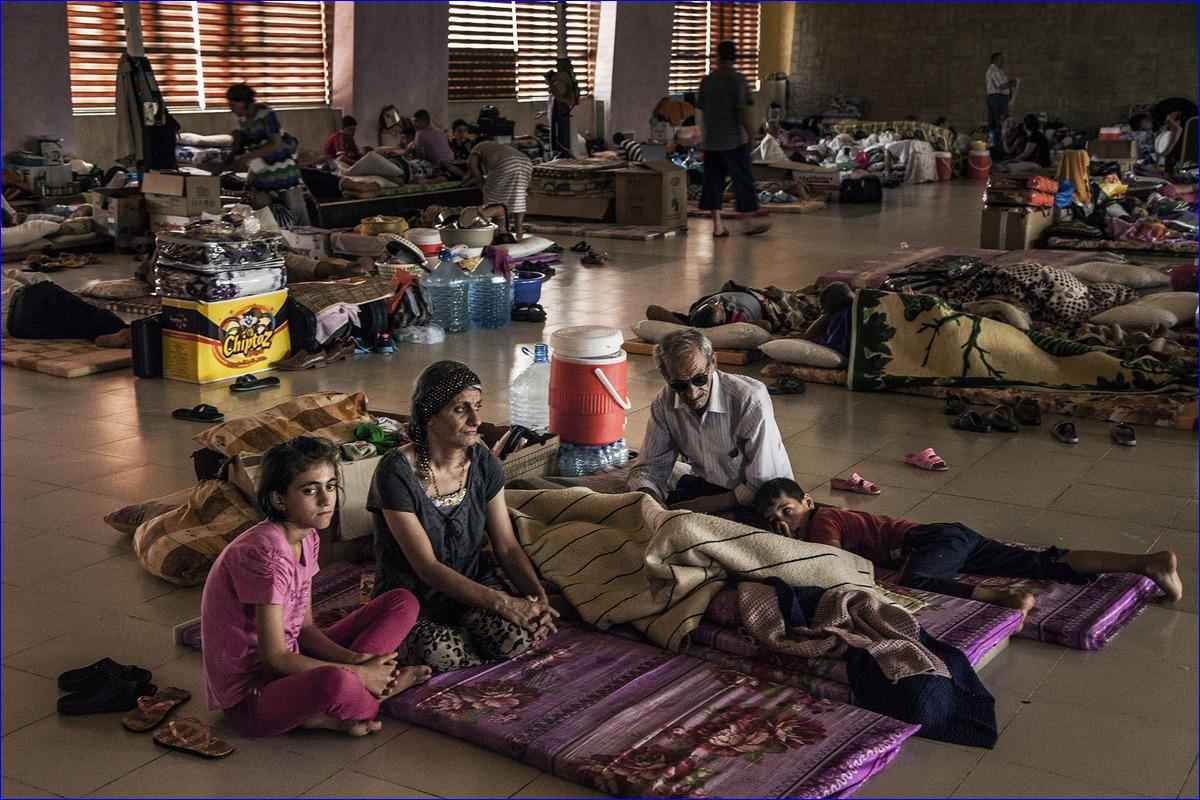 Sara sits in the banquet hall in Erbil where weddings used to take place. She is humming the name of her three-year-old daughter — Laila — over and over again.
She hasn't seen her daughter since an ISIS fighter grabbed Laila from her arms when the radical group overran her town of Qaraqosh in August.
Aware of the danger, Sara had sent her four other children away with another family days before as a precaution but had herself stayed behind with her blind husband and Laila.
"We thought it would all be over in a few days," she recalls. "We didn't think we needed to leave."
But on Aug. 22, the militants came to their home, telling them that all remaining Christian families would be escorted on a bus out of town. On the way, however, one of the militants took Laila and left as Sara was restrained by other fighters.
Since her youngest daughter was taken from her, she has been inconsolable.
"No one has hope in Iraq anymore," she mutters. "What is Iraq?"
The Graduate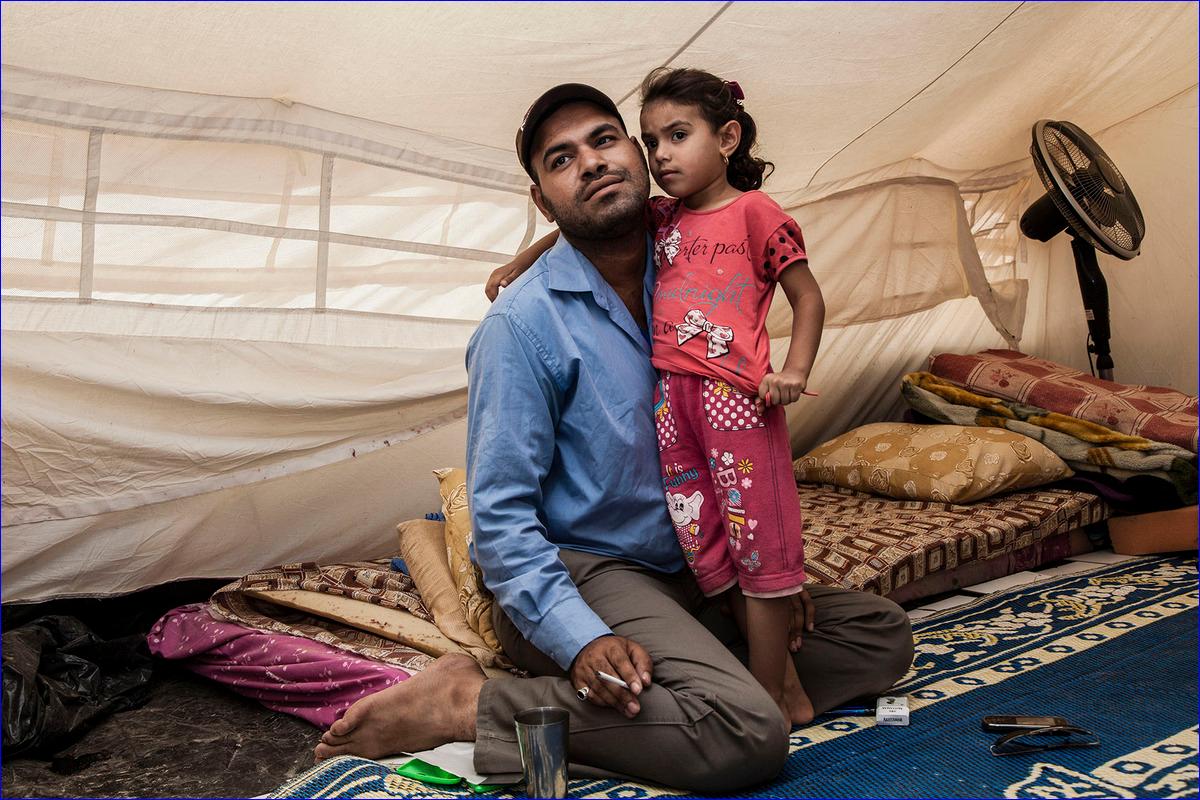 The proudest moment in 28-year-old Ehab's life came while giving a presentation on Shakespeare to his English class at the University of Mosul.
The only college graduate in his family, Ehab had saved for years working odd jobs to pay for his studies.
"Hamlet is amazing," he says. "Tragedy, family and revenge — it's a familiar story for Arabs," he adds, with a laugh, sitting in his tent at the Baharka refugee camp in Erbil.
In June, ISIS fighters took huge swaths of territory in the western Anbar region where Ehab lived and so he fled to Mosul in northern Iraq. Soon after, however, ISIS took Mosul as well and the family fled to Erbil in the Kurdistan region.
For Ehab, an Iraqi of Palestinian origin, displacement has been a strong plot line in his family's history. His family, who originally hail from Haifa, has been in Iraq since the founding of Israel in 1948.
"This is our fate," he says, quoting the melancholy Dane: "To be or not to be?"
Lauren Bohn is a multimedia journalist based in Istanbul and a columnist for Foreign Policy Magazine. She's the co-founder of Foreign Policy Interrupted, an initiative dedicated to amplifying female voices in foreign policy.
The interviewed asked that only their first names be used for security reasons.
By Lauren Bohn
Posted 2014-10-29 07:33 GMT