CNN World: The Siege of Mosul
(CNN) — For a while, Iraq faded from the collective consciousness. But what happened there Tuesday should make people sit up and take notice.
Extremist militants have overrun the northern city of Mosul, the country's second-largest. As many as half a million civilians have fled their homes to escape the violence, and the brazen incursion has highlighted all the weaknesses of the government's ability to maintain security.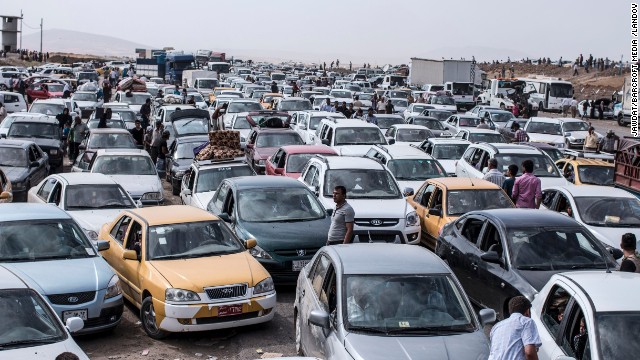 Photos: Iraqi civilians flee Mosul
Here's how things got to this point.
So, what happened?
Monday night into Tuesday, militants seized Mosul's airport, its TV stations and the governor's office. They freed up to 1,000 prisoners.
Police and soldiers ran from their posts rather than put up a fight, abandoning their weapons as they went. The militants took their place in the city's boulevards and buildings.
"There was no presence of any government forces on the streets, the majority of their posts destroyed and manned by (Islamist militants)," resident Firas al-Maslawi told CNN.
Why is this significant?
Mosul is the nation's second-largest city. What's happening here doesn't bode well for Prime Minister Nuri al-Maliki's administration. It calls into question whether he has a handle on the country.
The devastating militant advance, which had been building for some time, is proving an object lesson of much that is wrong in Iraq and the region — growing sectarian tensions at home and a festering civil war over the border in Syria.
It also shows that the extremists are seeking to extend their influence and can strike swiftly and effectively against Iraq's American-trained security forces.
Who are the militants?
They're part of the Islamic State in Iraq and Syria, or ISIS, an al Qaeda splinter group. Here's how extreme the militant group is: Even al Qaeda has disowned it.
The Mosul siege has made ISIS the single most dangerous, destabilizing radical group in the region.
The group is also known by some as the Islamic State in Iraq and the Levant. Its members include Europeans as well as Chechens, Turks and many fighters from other Arab countries, some attracted by the conflict in Syria.
What do they want?
They want to establish an Islamic caliphate, or state, stretching across the region.
ISIS has begun imposing Sharia law in Syrian towns it controls, like Raqqa, forcing women to wear the full veil, or niqab, in public and banning music.
Have they made such incursions before?
Yes. In past months, they've wrested control of Iraqi cities like Falluja and parts of Ramadi from authorities, just as they've done with Syrian towns over the border.
Militants believed to be from ISIS have also taken control of two villages in Iraq's Kirkuk province and seized parts of the oil town of Baiji in Salaheddin province, authorities said.
Have they been able to keep their control?
Not really. Despite the territorial advances it has made in Sunni-dominated Anbar and Nineveh provinces, ISIS still has "significant weaknesses," a U.S. counterterrorism official says.